The Go Jen Go Foundation is honored to support strong and amazing breast cancer patients with financial assistance. Many of these grantees have the joy of being a mother. When someone is diagnosed with breast cancer, it is their battle, but it's also a battle for their family, friends, and support system. This week we shared the reflections of a daughter, mother, daughter-in-law, son, and brother, as they shared the impact of their loved one and the meaning of this weekend.
We know that Mother's Day can bring different emotions and perspectives for people. It can be a day of celebrating, honoring, longing, and remembering. Our foundation gives grace and space to everyone, as they walk through this day, however is best for them. We celebrate our mothers fighting the fight, we remember those strong women who are no longer with us and we honor so many amazing women supporting our foundation, who touched our lives and legacies we continue to carry daily.
Read some amazing reflections on Mother's Day. We hope you can find hope, strength, care, and love in these stories.
A Son's Love: Rocco Pagani
"My mom was a strong, brave, and happy person. A favorite memory I have with her was when we would throw the football in the backyard. I try to carry her legacy by setting myself as a good example for my friends and little brother, Luca. If I could tell my mom something today, it would be that Luca and I are doing great.
Go Jen Go means that my mom's legacy will continue for a long time and she is still continuing to help people. For other kids that have lost their mom or their mom is fighting breast cancer, I'd remind them to live a happy life to honor your mom."
A Daughter's Love: Robin Saddler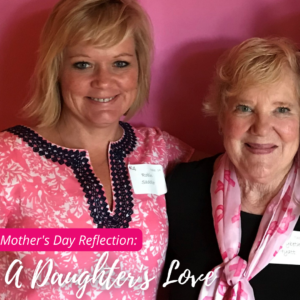 "Mother's Day is my favorite. That's because every year for Mother's Day weekend my mom, sister and I go to the beach in Florida. No boys allowed!  We laugh, eat and enjoy the ocean.
If it hadn't been for a breast self-exam, we might not have this time together.
My mom is a 22-year breast cancer survivor. She is my best friend, my cheerleader, my champion, and my biggest supporter. She is the most genuine and giving person on the planet and would without hesitation give you the shirt off her back.
I know that early detection saves lives. At the age of 57, my mom found a lump during a self-exam. She was diagnosed with stage two breast cancer. During menopause she took hormone replacement therapy, and we believe it resulted in hormonal breast cancer. After a lumpectomy, chemotherapy, and radiation, she conquered breast cancer and inspired me to make a difference.
That's why I founded The Pink Bow Campaign, a non-profit organization raising funds and awareness for breast cancer. The pink bows are a symbol of hope and a visible reminder to schedule yearly mammograms. The campaign offers pink bows for individuals, businesses, neighborhoods, teams, and schools to show support for those fighting breast cancer throughout the year.
I would tell others to keep fighting for yourself, for your family, and for your loved ones. Remember to practice breast self-exams and get your annual mammograms. Together we can make an impact one pink bow at a time!"
A Son & Brother's Love – Jeff Burnette
"For me, Mother's Day is a wonderful opportunity to thank and remember those in our lives past and present that showered us with love.
Two of those women are my sister, Jen and my mom, Jan. Breast cancer came into our lives 14 years ago with Jennifer being diagnosed and again when my mother was diagnosed a few years ago. As a family, we always found time to laugh and support each other through difficult times.
My mom and sister are hard to describe in a few words. Together they can be described as larger than life, loving, supportive, fun, and compassionate. I learned empathy and nurturing from my mother and compassion and drive to help others from my sister. There are a multitude of other wonderful traits from both of them that I try to emulate in my life.
I carry my sister's legacy by serving on the Go Jen Go board. That service allows me to honor the wonderful memories and carry the torch of her love for others. Those memories go hand in hand with honoring my mother and thanking her for her unending well of love and support.
I'd tell other sons and brothers who have a loved one battling cancer that care, compassion, love, and support will always help those in need and honor those who have passed."
A Daughter's Love: Donna Sinagra
"My mother is a breast cancer survivor of over 20 years. I, myself, was diagnosed in October 2019. Having seen how strong my mother was during her battle, I knew that I could get through this too, especially with her now by my side. We successfully got through all this during the entire world shutting down in the middle of my chemo.
If I had to describe her in three words, I would have to say, "Fierce, Resilient, and Strong!"
I try to celebrate with my mom every chance I get. Since my personal battle, it definitely has made us much closer. I let her know how much she means to me and how blessed I am to have her as my mom as often as I can.  She is someone I can look up to and say, "The strength I had to get through my cancer, I got from her!"
I am super blessed that my mom is still here and lives close enough to be able to spend time with her on Mother's Day. I don't know any better way to honor her other than making the day special and all about her.
My mother means the world to me, is an inspiration, and I think she just might be Wonder Woman. I love her with all my heart."
A Mother's Love: Bernadette Simpson
"I am a two time breast cancer survivor, first diagnosed at the age of 42 and then again at the age of 48.  At the age of 50, I lost one older sister to breast cancer. I have an extensive family history of breast cancer that includes my grandmother, mother, 2 sisters and myself.  My three sisters and I have all had genetic testing done and we all have a mutation on the BRCA-1 gene.
When thinking about Mother's Day, it takes me back to my breast cancer history.  My grandmother, mother and 2 of my 3 sisters have all had breast cancer, and I was diagnosed twice. One of my sisters passed away from breast cancer when I was 50. 
I was 42 with my first diagnosis and my daughter, Lauren, was 5 then.  Explaining cancer to her didn't make sense to her but she was very smart. I told her I had something called breast cancer and to get better, I would lose my hair, and get medicines that would make me sick. She understood as best she could and was so strong. It was hard during that time not to be able to take care of Lauren the way I wanted. At that time, my mom and dad would keep her on the weeks that the chemo made me sick.  During radiation, Lauren went to every treatment with me and bravely waited by herself in the waiting room until I was finished.
With my 2nd diagnosis, Lauren was almost 12 and her biggest worry was if I would live or die.  Being older, it really pained me to see her step up and make dinner for herself when I was sick, do her own laundry and help around the house.  No 12 year old should have to go through that, but she was brave and strong and she did it all while going to school and getting straight A's.  I remember that year was the worst Mother's Day for me.  I was sick from chemo and couldn't visit my own mother, much less enjoy the day with Lauren.  But Lauren did everything she could to make it special.
I also remember with my 2nd diagnosis that my mom seemed more upset.  She told me she felt like this was something she gave me because we all have a mutation on the BRCA-1 gene.  That broke my heart because my mother was everything to me.  She went to every doctor appointment and almost every chemo treatment with me.  She stayed with me and took care of me after my surgeries, and made sure I was ok.  I don't know what I would have done without her to help.
My mom passed away 2 years ago and now Mother's Day is not the same for me.  My best friend is gone.  Now, I have to remember that I have a daughter who still has a mother.  My mother was a very strong, independent woman with a smile that could light up a room.  I like to think I got those same qualities from her, and I have passed them on to my daughter.  Now my hope for my daughter is that she can someday see a world without breast cancer."
A Daughter-in-Law's Love: Susan Sears
"It's been almost 18 years since she passed, but I can still hear her laugh and see her smile. My mother-in-law, Terry, was selfless, LOVED her children, 'her baby' (my son Austin), and her golden retrievers. She always made you feel special and was quick with a hug, smile, joke.
Her first breast cancer diagnosis was a shock and beyond knowing that she was going through treatment, there wasn't much talk about it. I don't know the stage, type, or any details. All I know is that I overheard her tell a friend she was worried she'd never know her grandchildren. Treatment concluded and we thought that was it.
Terry was at the hospital when Austin was born in May 2002. Not even a week later, we got the news that her cancer had spread to her bones. Devastating is an understatement. Terry traveled to Duke to receive the very best treatment options available at the time. All avenues were explored. Even then, there wasn't much talk going on.
On June 16, 2004, Terry was admitted to inpatient hospice care. That afternoon I brought Austin by to see her, and we watched Oprah. The next morning while at work, I got a call and was told that she wanted us there and to gather the family at the hospice center. My initial thought was that this was when she'd share thoughts and goodbyes. However, when I arrived, she was heavily sedated and no longer able to speak.
The nursing staff took other family members aside to prepare them for what was to come soon. I had the opportunity to sit alone with her for a few minutes, and I made promises y'all, lots of them! And while not all of them have stuck, one that did is that I have made it my life's mission and purpose to support breast cancer patients in whatever capacity I can. For the past 17 years I have run, walked, fundraised, volunteered, and now work to make a difference in her memory.
On Mother's Day, I remember Terry for the love and support that she provided and the joy that she lived with every day. I hope I've made her proud and that she knows the special impact that she had on my life."
These reflections remind us of the love of a mother, the impact of strong and amazing women we are surrounded by and of many we have lost to breast cancer. But one thing is for certain, their legacies continue to shine bright and many continue to be honored daily.
We are grateful for people like Rocco, Susan, Bernadette, Jeff, Robin and Donna who share their story and help carry the legacy of Jen Pagani by supporting the Go Jen Go Foundation.
If you'd like an opportunity to honor, celebrate or remember your Mother or a Mother figure in your life, consider joining Jen's Legacy, our monthly donor program. By giving a recurring gift of any amount monthly, you let breast cancer patients know they're not alone and provides peace of mind as they receive treatment and focus on their health.